POSTED IN: Patek Philippe Watches, Sell Chronograph Watches, Sell Gold Watches, Watch Appraisals
Have you got a Patek Philippe watch? Then you've got something truly valuable on your hands (or should that be wrist?). For the longest time now, Patek Philippe watches have been the epitome of high-class horology. "Really?" the crass might ask, "But they're not flashy!"
They're right. These watches are not encrusted with diamonds like their designers were given free reign at the chocolate sprinkles jar. They don't scream at the top of their lungs how rich you are.
That is because they don't need to. They're Patek Philippe watches. To say they're classy is to sell them short. Instead, they define the very word. The result? Any collector worth their salt will pay top dollar for them.
So we're going to tell you right now: If you're going to sell one, make sure you do your homework first. Of course, you should do that with any jewelry you want to sell – but it goes double for a Patek Philippe watch.
The price range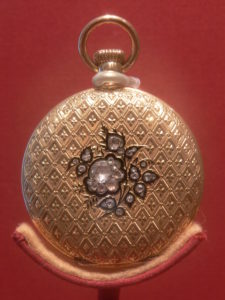 Now, to be clear, there are Patek Philippe watches and there are Patek Philippe watches. At the bottom end you'll find watches in the $1,000 to $4,000 range. An example is the Stainless steel Quartz Movement and the lady's variety of the same watch (model number 5064A and 4960A).
Then you've got such watches as the 5070 Chronograph 115 sec. with 30 minute register watch. This one is worth somewhere between $35,000 and $45,000 if you buy it in yellow gold, or $52,000 to $70,000 for the platinum variety.
And then, of course, there are the specialty items. These can be worth millions.
For that reason, it is vital that you make sure what your watch is worth. Only then get a price estimate, so that you can enter into talks with a potential buyer with confidence. Fortunately, that's easy to do.
If you don't have one of the rarest models, you can put the model number along with 'Patek Philippe' into Google. You'll get back a range of pages with price estimate. To get a good idea check a few.
Don't know and can't find the model number? Then check out the Patek page and match your watch with the pictures provided.
Getting a price estimate
Now you've got a general idea of what your watch is worth. Of course, that doesn't mean that is what people will offer. Some dealers won't know what they're holding. Others will and will try to low-ball you anyway.
They might claim that the re-sale value of the watch is much lower than the original value. If they say that you should walk away. You might even want to say something nasty, as that is patently untrue.
Unlike other luxury watches, the margin for Patek Phillipe watches is much tighter. This is because they hold their value well – in part because the compnay doesn't many many of these watches compared to some other luxury brands. Only about a million have been produced in the lifetime of the company. They've been around for nearly 200 years.
Now, do note that if your watch is not in mint (or pristine) condition, that will reduce the value and the offer. So, be careful with it. Maybe don't let your kids find out what's inside it. After all, even the simplest watches take the experts about nine months. So you might struggle to put it back together agian.
How it works with us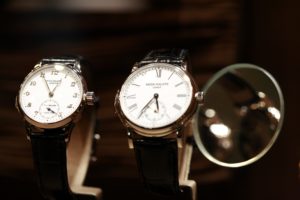 Here at Cash for Gold, we're fond of Patek Philippe watches. We've got a lot of history buying and selling them. For that reason, if you have one for sale, reach out to us! If it's one of the lines that we work with, then we'll gladly take a look and make you a free, no-obligation offer.
You can find out more about how this process works on our Patek Philippe Luxury Watches page. Again, for your own peace of mind, do your homework before you reach out. That way when we make the offer you'll know it's a good one and everybody will walk away from the sale happy.
How does that sound?