POSTED IN: Gold Price Forecasts, home_featured
Up? Down? Flat? Where the price of gold is headed is constantly discussed by financial experts from wall street to Hong Kong. A few years off all-time highs, many are wondering if good times are here again for gold bulls, or if prices will never regain their thunder. In 2016, however, the majority of banking experts believe that the price of gold will drop. On the optimistic side, some market analysts believe that gold still has a chance to rise this year.
And despite this bearish forecast, Gold is already up to $1,220/ounce this year, up nearly 15%. That's a bullish result for the start of the year that saw a tumble in stock prices before a recovery. But just as the stock market came back up, Gold has started to shift back down from highs and may end up down yet.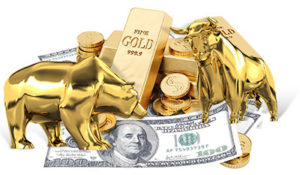 Bearish Sentiments from the Banking Sector
Within the banking sector, even the most bullish forecasts predict that gold will only attain a daily average of $1,205 – $1,300 per ounce. Joni Teves of bullion bank UBS and James Steele of HSBC, share this view.
Bernard Dahdah of French bank, Natixis, predicts that gold could slide to an average of $970 within 2016. He believes that gold prices will fall as low as $900 and will only go as high as $1,300 at most. He has gained credibility in his forecasts as he was able to correctly predict last year's average gold price of $1,160 an ounce. Natixis is expecting more rate hikes from the US Fed this year, making the US dollar a more attractive investment than gold.
The value of gold is measured in US dollars, so when the dollar strengthens, the price of gold drops. A strengthening US dollar has more appeal to investors, as they can get a higher return and interest.
Another French bank, BNP Paribas, believes gold could go as low as $960 an ounce this year. Martin Squires, an analyst of BNP Paribas believes there are several signs of gold prices dropping. Aside from the slowing global economy, the strengthening of the US dollar, and expectations of the US Fed to raise rates three times this year, will contribute to the devaluing of gold.
Goldman Sachs shares similar views with the two French banks. Analysts from this U.S.-based financial institution believe that the price of gold has peaked. They further state that a strengthening of the US labor market will pressure the Fed to hike rates up to three times this year, making the dollar more valuable and gold less expensive.
Capital Economics, a UK-based economic research company, believes that silver will be the winning metal for 2016, outperforming gold in earnings this year. This belief is fueled by rising electronics demand, which accounts for 25% of total silver demand.
Few Bullish Outlooks from Market Analysts
Darren Capriotti, a market analyst from Gold-Eagle News, has a bullish stance on gold prices. He states that one variable which affects the price of gold is demand from heavily-populated countries like India and China. Yet despite the fact that there was less gold purchased in March 2016 than there was in March 2015, the price of gold went up. He believes that this is a testament to the rising value of gold.
His optimistic view is further supported by Daryl Guppy of CNBC News. Guppy argues that gold has broken out of its resistance bands, proving it has potential to rise in value. Gold has managed to remain above its critical resistance level of $1,200. The next historical resistance level it has to reach is $1,340, which Guppy believes can be done quickly.
Is It Time to Sell Gold?

Everyone loved to see rising gold prices and was eager to sell their gold as prices skyrocketed towards the end of the last decade. And many of those individuals did very well selling near the top. Now the question is, if the outlook for gold is so gloomy, should I really be holding on to it?
It's a popular notion that "gold always goes up" – it got ingrained in people's mind during the long bull market the precious metal had. But it simply isn't the case – it may be a safe haven investment, but it doesn't always go up. And with the strong possibility of it going down, it may be a savvy financial move to liquidate any unwanted gold that you currently do have. A 20% price move is certainly possible, and the different between an extra $500 in spending money and $400. With gold still very valuable, it's worth selling at the right time.
Requesting a Gold Pack

Are you interested in selling your gold? Our Cash for Gold Mailer pack is simple to use, fast, and secure. To learn more about the process, request a pack now or read our How It Works page for more information.